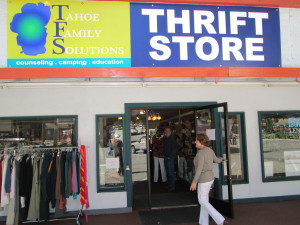 In the past 12 months the TFS thrift Store at has been one of the most active businesses in Incline Village and has provided record support to TFS programs.  Proceeds from the Thrift Store fund mental health care, Camp Explore, and Homework Help Club.  Without the generous donations from our community that are re-sold at the store we could not deliver the breadth and scope of programming for the Tahoe Basin.
In addition the Thrift Store has played an increasingly important role in our community providing affordable clothing, household goods and furniture to many residents who do not have a lot of disposable income in their family budget.  Open seven days a week, the Thrift Store is a valuable resource for many, and a fun place to find that one of a kind treasure that just can't be obtained anywhere else.
So If you have an item to donate (donations are tax deductible), or want to find that perfect set of lamps for your house or apartment when you patronize the TFS Thrift Store you are helping to build stronger families in this community.  Our volunteers and staff at the Thrift Store are relentlessly customer focused and provide a friendly welcoming place to chat, shop or donate.